Jeff Mallmes
1200 Tran Canada Hyw, Sicamous, BC,  v0e 2v0
250-253-7207 | jeff.mallmes@gmail.com
October 30, 2017
Freedom Energy Solar Experts Inc.
We contact Freedom Energy regarding the possibility of having Solar Installed on our acreage.
Rob, came to our house and discussed the process, he required the past years power consumption and we discussed preferred locations.
Rob analyzed our consumption of energy and locations available and returned with a professional proposal that forecasted the amount of energy we could produce and showed us the preferred layout.
The preferred system required a ground mount installation, we live on an acreage. We made a decision and the system was installed, it was a couple of days for the support system which was 60' (18m) long by 14' (3m) high, then 36 solar panels were installed, trenching to put conduit in for the power to go to the inverter, control boxes and we were producing power within a week. Signing or contract to completion 3 weeks.
We are very happy with what the system produces,  Even in the month of February it can produce more than 60Kwatt hours in one day. Excited to see what it will produce in the long days during summer.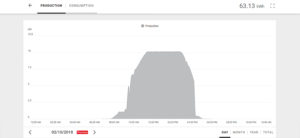 The whole process was professional and although we have only had the system 4 months it has worked great. The inverter by Fronius and their monitoring software, Solarweb, is monitoring the system and if it produces no power or has any faults you get an email, of course ours was because it had snow on it, but the snow melts off when the sun comes out, usually within 2 days.
I highly recommend Freedom Energy, Rob Himmelspach, for your solar requirements.
Jeff Mallmes